By:  Lynn Green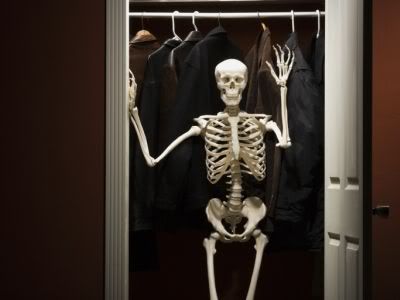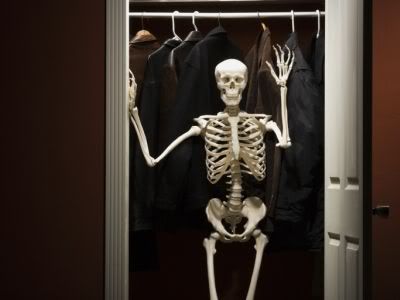 HELLO?????
Knock – Knock
Anybody hiding in the closet?
Come out, please!
[silence]
I KNOW someone is hiding in the closet. Would you speak up, please?
[silence]
One of my earrings is missing. Somebody is wearing one of my earrings and I believe the person doing so is hiding out in the closet. Would you come out of the closet, please? Your game is up!
[silence]
Okay, I'm just going to open the closet door and FORCE whoever is in there wearing one of my very feminine earrings to come on out.
[sounds of someone scurrying to the back of the closet]
Hmmmmm…..sounds like a rodent in there!
[opening door]
I can't see his face yet but he surely does have an expensive looking suit on and some $500 shoes and more jewelry on his fingers than I've ever seen on a man and…..what a huge belly he has. Surely has been eating well.  Ooh! That cologne…or is it perfume….is awfully strong!
[person covers his face]
So you are being stubborn, huh? OOPS! I just spotted my earring on your ear! I see a shining bald head. You look familiar. Either you take your hands down from your eyes or I'll do it for you! Don't make me get violent up in here!
[person uncovers face, knowing he's caught hiding in the closet]
My, my, my…..so my cousin was right about growing up with you in West Virginia, huh? He said that you were FLAMING and that the boys would pick on you and that he and a couple of other compassionate boys in the neighborhood would protect you. He said you showed zero interest in girls until you started to preach and knew you needed a wife as a cover as you moved along the preaching circles.
[man in closet looks like a deer caught in headlights]
I must give it to you, sir. You hid out well for years in the closet. But after your twin sons showed up on TBN wearing earrings in BOTH their ears and talking in a feminine voice, I guess you admired their boldness in coming out, huh?
[man in closet looks like the devil, knowing his mask has been pulled off]
And once it became obvious that your twins are pillow biters (well, one of them is flaming!) you softened your stance on homosexuality and started to engage in blaspheme.
HOW DARE YOU insinuate that King David was a homosexual. HOW DARE YOU part your filthy, vile lips to say that Naomi and her daughter-in-law, Ruth were lesbians. HOW DARE YOU blaspheme God like that.
Are you telling me that a daughter-in-law cannot make a vow to follow and protect her aging mother-in-law unless there is perversion involved? Only a pervert would see it that way.
And are you telling me that GOD—who said that King David was a man after His own heart, would go against His own Word by making a homosexual the star of the Old Testament? Do you think God is crazy? God said homosexuality is an abomination to His nostrils.
There was NOTHING gay about King David. Jonathan was his dearest friend and it did not go beyond that. Only a pervert would see homosexualty in such a sacred friendship.
GET OUT OF THAT CLOSET! Who do you think you're fooling?