By:  LadyD
People are viewing the Word of God from their worldly perspective. That's why people are coming to Jake's defense, thus enabling him to continue in his backslidden state.
Eli was the priest of God and had 2 sons – Hophni and Phinehas "that knew not the Lord, because they were really sons of Belial." (1 Samuel 2:12).
They continually took/stole sacrifices that the people bought to the Lord, therefore their sin was very great before the Lord (1 Samuel 2:13-17)
Eli heard all that his sons were doing, stealing the offerings of the people, sleeping with women at the front door of the tabernacle. (verse 22) He did speak to his sons, but to no avail because there were no consequences.
God finally sent a prophet to Eli and told him of the coming judgment on his entire lineage. Because Eli honored his sons above God, his family would be forever cursed (verse 29). God then confirmed His Word again through young Samuel.
In the end both of Eli's sons died on the same day – By this time Eli was grossly overweight and near blind – when he got the news of his sons death and that the ark of God were taken in battle, and he fell off his stool, broke his neck and died.
Eli's daughter in law was about to have a baby heard all this news, went into labor, gave birth to a son and she died! The child's was named Ichabod because the glory of the Lord was gone. (1 Samuel 4: 11-22)
Back to TD Jakes whose story parallels Eli's: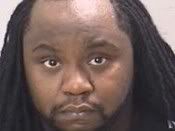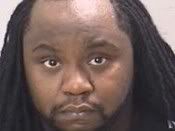 Jermaine Jakes
1. He was well aware of his son's/children's sins. He could have talked to him/them, but there were NO CONSEQUENCES!! He honored his son above God – and the glory of the Lord departed.
2. Therefore the cloaking of his family's sins continued while he went around the world with his false gospel.
3. We do not have control over our children's behavior, but we are not to hide or cover their sins. If this young man has a mental problem, there are all kinds of medication and counseling available.
At this point Jakes will either (A) Continue embracing the homosexual rhetoric to cover his son and join the homosexual movement.
Or (B) Repent and see God bring restoration and healing in his life and the lives of his children.
I hope he chooses letter B~