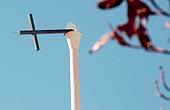 When Hurricane Katrina hit New Orleans on August 29, 2005, the entire world was shocked. Not since Sodom and Gomorrah has such an horrific incident been recorded in history. An entire city was pretty much wiped off the map.At the time that the hurricane hit, New Orleans was in bad shape educationally, morally, financially, legally, etc. People who could afford to leave New Orleans were jumping ship, and as they left, criminals—from crooked police officers to high ranking political figures to street thugs, pimped and abused that city like pins in a Louisiana voodoo doll.Two days after the hurricane struck, the following article was written:
Thousands of opportunistic vultures have looted stores all over the city, and shot in the head one police officer who tried to stop them. The New Orleans Times-Picayune has posted photos on its website of other police officers joining in the widespread theft from unattended stores. Looters have picked clean Wal-Mart's gun department downtown. This anarchy is regrettably not all that surprising. Disaster does not make a weak peacetime civil and social infrastructure strong. Unfortunately, New Orleans must now ask for deserved billions in recovery money even as Americans see images of a city that loots itself on its worst day.

New Orleans teems with crime, and the NOPD can't keep order on a good day. Former commissioner Richard Pennington brought New Orleans' crime rate down from its peak during the mid-1990s. But since Pennington's departure, crime rates have soared, to ten times the national average. The NOPD might have hundreds of decent officers, but it has a well-deserved institutional image as corrupt, brutal, and incompetent.
How can the police officers of New Orleans be expected to keep order there when clearly they are a large part of New Orleans' corruption problem? Since when has it been safe for the fox to watch the hen house?
In New Orleans, 11 police officers were convicted of accepting nearly $100,000 from undercover agents to protect a cocaine supply warehouse containing 286 pounds of cocaine. The undercover portion of the investigation was terminated when a witness was killed under orders from a New Orleans police officer.
In November, 2005— three months post-disaster, more was exposed about the city:
"Always broke. Worst school system in the state. Highest crime rate in the nation. Shrinking population. All the corporations have moved out," said Bernie Pinsonat, a political analyst in Baton Rouge. "Any poll I do, the rest of Louisiana thinks, 'New Orleans is a deep, dark hole, and no matter how much money we send, it doesn't seem to get better.' "
Interesting that Mr. Pinsonat mentioned that the city always is broke and that any money that enters it literally and figuratively goes into a "dark hole".
In 2006, Congress gave Louisiana $7.2 billion as a means to help relieve suffering of the citizens of the State Louisiana that suffered storm damage from hurricanes Katrina and Rita. as of March 1, 2007 Louisiana has issued less than $3 million of those funds in the form of grants and have still not processed over 80,000 and applications. However, at last report the State only had $5.2 billion left. With a maximum grant of $150,000 it makes one wonder where the rest of the funds gone too.
With crime rates in New Orleans sky high at this moment and money unaccounted for, it appears that the only thing that continues to live and thrive in New Orleans is its voodoo industry:
The New Orleans Voodoo Music Experience held annually in City Park was, and now is again, in the Wizard's opinion, one of the better local events. Due to the damage to the City Park location by hurricane Katrina, the 2005 Vooodoo Music Experience was held in other locations in a best they could do, show must go on, make do.
Now two years later,after a lot of hard work and planning, the Voodoo Music Experience is back,BIGTIME,and expanded.
The 2007 Voodoo Music Festival is being expanded to 3 days,from Friday Oct. 26 through Sunday Oct. 28.
Haunted House Voodoo Tours
Cemetary Voodoo Tours
African Bone Readings, Palm Readings, Card Readings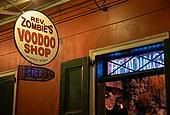 Although I definitely did not want anyone to die or become harmed in that hurricane—in some ways it may be a pity that the entire city was not washed off the map after the people escaped, so as to start all over again.
CHECK OUT VIDEO BELOW!