I received a true chuckle today while visiting the blog of IC  and seeing that "His Grace", "Bishop" E. Bernard Jordan, is selling soap. Soap, everyone. Why?
Juanita Bynum wants her $200,000 threshing floor and "His Grace, Bishop Jordan" wants you to buy his soap.
Jesus was not obsessed with money. He was concerned about souls. People out in the world who are unsaved have good sense. Just as Christians can look and see that there is something peculiar about certain ministers constantly finding a way to empty out people's pocketbooks, sinners see it also. It turns those who are not saved off and further away from the Lord.
How often have you heard the expression, "I'm not going to church. Those ministers are just after money". Well you know what? The people who say that do so because they look at TBN and similar programs and see the constant, shameless begging that takes place. It's a blight on the Body of Christ and it makes all Christians look bad.
So now we have "His Grace" selling soap. Check out this advertisement:
Blended by His Grace, Bishop E. Bernard Jordan, these soaps will cause you to experience the prophetic in a way you would never expect. Click on the various products to see what you're missing! source
Blended by His Grace? Is he God now? Why is "His" capitalized?  Also, since when has "His Grace" learned how to make soap? And guess how much His Grace's soap costs, ya'll?    $7.00 a bar!
Look what else your hard earned money can buy:
For $365, Bishop Jordan will go before God on your behalf, and discern the script that has been written for your life! link
So they are charging for prayers and prophecy, huh? Here's the zinger! For a seed of $3,000 you can join his prophetic inner circle!
For a seed of $3,000.00 you will experience the benefits of prophetic one on one coaching, direction and guidance till the end of 2006.

The Prophetic Inner Circle is a group of committed prophets trained under the Master Prophet E. Bernard Jordan. The Prophetic Inner Circle has one goal in mind, speaking the word of the Lord into your life. Your personal prophet will help you discover your weaknesses and move you into your personal strengths. With over 30 years of Prophetic Ministry, Master Prophet E. Bernard Jordan has spoken into the lives of thousands. Better known as the Prophet to the Stars, Bishop Jordan has the unique ability to motivate people to move beyond mediocrity and embrace excellence and wholeness in their lives. Through his 1-on-1 coaching, Bishop Jordan has the ability to see the potential in people and cultivate the gifts and talents that often lie dormant within them. He has placed thousands on the road to their prophetic destiny.Members of the Prophetic Inner Circle will be assigned a personal prophet who will be a living letter of Master Prophet E. Bernard Jordan. Your personal prophet will serve as your prophetic midwife. Your personal prophet will help you dream yet another dream, as you begin to discover the loopholes in your life that will direct you to your destiny. Your personal prophet will serve as your spiritual flashlight to help you to see your way out of your dark tunnel. source
What I really find disturbing is the fact that Run who claims to be a reverend, has endorsed this money grabbing clown and even bought him a ROLLS ROYCE!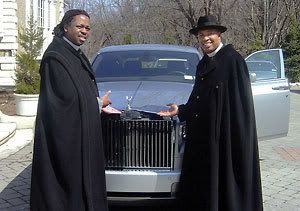 The men in black cloaks, Rev. Run and Bishop Jordan in front of Rolls Royce that Run purchased for Jordan. Unbelievable!